Summary of the best wife birthday wishes, messages, birthday quotes for the most important woman in your life. Let your wife feel the happiness through the sweet and lovely birthday wishes in this article.
Coming to your wife's birthday, you want to wish the best sweetest and most meaningful words to your wife to be happy. But if you are still having a headache and have not yet thought of a good wishes, meaning for your wife on birthday, then please give your best wishes to your wife and the great meaning that birthdaycake24.com collected you.
Sweet Birthday Wishes For Your Wife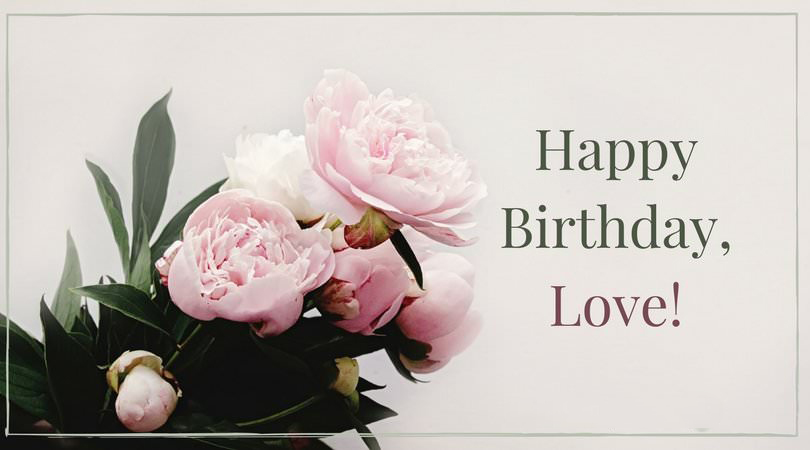 1. "With each year, I'll love you more. Remember that your best years are still ahead of you and I'll be there for you at life's every up and down and the in-between. Happy birthday, my love."
2. "It seems that everyone knows you turned a year older except me. In my eyes, you are exactly the way that you were when I met you for the first time – stunning and gorgeous. Happy birthday."
3. "As you blow the candles on your birthday cake, I want to tell you what a wonderful wife you make. Without you in my life, my heart would have bled. With you, I look forward to a wonderful life ahead. Happy birthday, darling."
4. "I know you have a lot of things to do, so I'm taking them off your hands and doing them for you. Happy Birthday – I love you!"
5. "Very few people meet their soul mates, but I have been fortunate enough to marry this special someone! I hope you have a beautiful birthday. Happy birthday, dear!"
6. "Congratulations honey! You have circled our Sun again and it's your Birthday! I wish you the best, and a seven-course dinner tonight.
7. "Every now and then someone comes into your life and they turn it upside down in a good way, and you are that someone for me! You are my life and I wish you a very happy birthday."
8. "To my beautiful wife, I hope this year brings you as much joy and happiness that you have brought and continue to bring into my life. Happy birthday!"
9. "I wake up every morning and thank the good Lord for bringing you into my life. Jerry Maguire said it best 'you complete me'. Happy birthday, my beautiful wife. I love you always and forever."
10. "You may be older by a year today but you are sexier than ever! Happy birthday."
11. "Happy birthday to the woman who still makes my heart beat fast: my wife. May your birthday be filled with a million moments of laughter and love."
12. "It doesn't matter where our journey in life takes us, so long as we are together. Happy birthday to a wife who is as unforgettable as she is utterly lovable."
13. "Let's make this a birthday to remember. It's all about you today and I want to make you feel like the happiest woman alive."
14. "I don't feel embarrassed in telling all my friends that you are in charge of my life. I feel lucky and proud to have a woman as hardworking and focused as you are, my wife. Happy birthday."
15. "Your birthday is the perfect opportunity to say SORRY for all the fights and arguments, THANK YOU for all the sacrifices you've made and I LOVE YOU for everything that you mean to me. Happy birthday."
16. "I feel so blessed to have such a beautiful and supportive life partner like you, sweetheart! I wish you true happiness on your birthday, and always!"
17. "No words can express my feelings for you, honey. You are my love, my sunshine, my life! Happy birthday!"
18. "More than a wife in you I have found a friend for life. Happy birthday."
19. "On birthdays people wish so many things, but for me there are just two words – never and always. Always be by my side and never leave me. I love you so much darling. Happy birthday."
20. "Best birthday wishes to the perfect woman in the world who chose to love an imperfect man like me. Happy birthday!"
Special Birthday Wishes For Wife With Love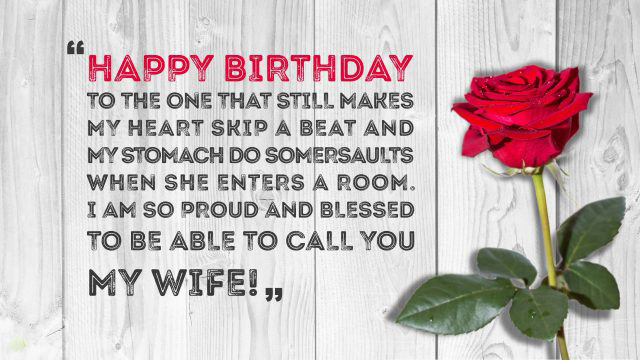 21. "Most people read quotes to find the true meaning of life, but all I need to do is to look into your eyes. Happy birthday my dear wife!"
22. "The best part of our relationship is that the memories of bitter fights have been overshadowed by those of making up after. Happy birthday!"
23. "One universe, nine planets, 204 countries, 809 islands, 7 seas, and I had the privilege of meeting you. On your birthday, I want you to know how much you mean to me. Happy birthday."
24. "You are my life. You are my breath. You are my inspiration. Happy birthday to you!"
25. "Loving you is a privilege, knowing you is a blessing, being with you is a wish come true. Much love on your birthday."
26. "My goal is to keep a smile on your face. And when it starts to fade away, I'll do whatever it takes to brighten your day. Happy birthday."
27. "There may be hundreds of ways to wish you a happy birthday, but the best one is to give you a hug and whisper sweet nothings as we sway to love's tango. Happy birthday!"
28. "You are the sweetest thing in the world and you know how I cannot resist sweet things. Happy birthday, my dear."
29. "A birthday is incomplete without a toast, and here's mine for you – as a mother, you're the sweetest; as a woman, you're the prettiest; as a wife, you're the best. Happy birthday!"
30. "Your birthday cake is symbolic of how your sweetness makes my life's bitter moments worth tolerating. Happy birthday."
31. "All the riches in the world are useless without you and your love. Happy birthday to the diamond of my life."
32. "As we grow old together, we will change. But one thing will stay the same and that is our love, the glue that holds us together. Happy birthday!"
33. "Poets and painters express my feelings best. My poor self can only say, "Happy birthday my love."
34. "On your birthday I want to make a promise that I will not tire, until I fulfill all your wishes and desires. Happy birthday!"
35. "Days may come and go. But our love and respect for each other will certainly be rock solid and none of the forces of the universe can alter it. Happy birthday to you, my gorgeous wife!"
36. "You're the most wonderful woman in the world to me. You are and will always be – the special girl! Happy birthday!"
37. "I love your smile, I love your touch, I love your stares, I love your body, I love you! You are simply irresistible. Happy birthday, to my wife!"
38. "Happy birthday, my love! A thousand words won't be able to describe your shinning beauty, a thousand words won't be able to express what is in my heart."
Romantic Birthday Wishes For Your Wife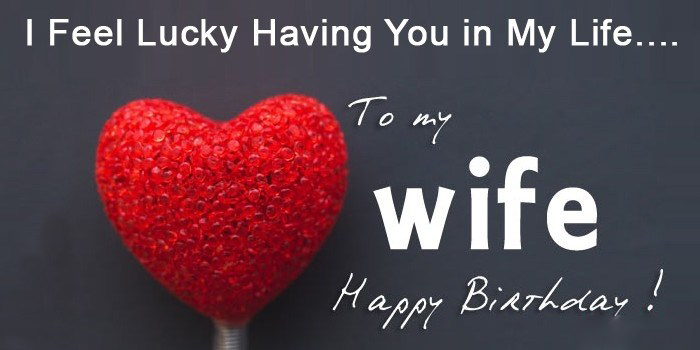 39. "Having a friend, partner, and a girlfriend rolled into one! I couldn't have been luckier. Happy Birthday to you baby!"
40. "All I really want to do in life is to treat you right and keep you mine. Not just today on your birthday, but on the other days of the year as well. Happy birthday!"
41. "We celebrate your birthday every year! And, the only thing that changes with every passing year is my love for you – it keeps strengthening. Happy birthday, my love!"
42. "I will wrap my arms around you the first chance I get. Get ready for a big birthday squeeze, dear!
43. "Roses are red. Violets are blue. My wife is awesome and pretty great in bed too! Happy birthday, beautiful!"
44. "Today we are celebrating you, my love: the woman who makes everyday a celebration. Happy birthday!"
45. "Here's to hoping our moments together are greater than the number of water drops in the Seven Seas and grains of sand in the deserts. Happy birthday!"
46. "Today is all about you, my lovely wife. So let us dine at your favorite restaurant, open your favorite bottle of wine, and watch your favorite movie. Today is all about indulging in what you love! Happy birthday!"
47. "The flames of passion will never be extinguished between us. Let our love flare brightly and bring you a wonderful birthday."
48. "Happy Birthday, baby. I promise to make your day as special as you are to me, and I promise to make your year even more special!"
49. "When you close your eyes and make a wish, wish for a long life full of love and happiness. You certainly deserve it. Happy birthday, from your husband."
50. "In you I have found: the perfect partner, the best friend, and the sweetest love that I ever imagined. I'm so happy that life has brought me to you. Happy birthday sweetheart!"
Funny Birthday Messages for Wife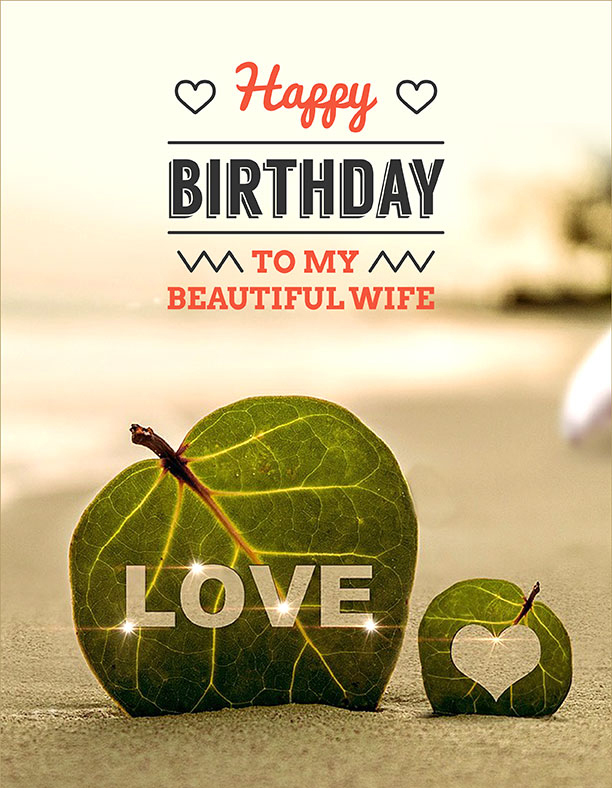 51. "This day is special for both of us. Why? Because I would have not tasted such delicious food if you were not born. Happy Birthday love."
52. "Do you need candles for the cake? I don't think so, as your smile shall be enough to light up the environment. Happy birthday, Love."
53. "I am glad that Cupid hit me with his arrow when I was admiring your beauty. Happy Birthday, dear."
54. "I sometimes wonder that who would have tackled all the mess I do, if you were not there. Happy birthday Love."
55. "Tolerating the distance between us gets harder for me when I go for work. I wish on this special day to get permitted for working from home daily. Happy Birthday beautiful."
56. "If I was asked the reason for being crazy about you, I would not describe the aroma of the smell of your food, as I don't want to share it with anyone. Happy birthday Babe."
Above are 50+ best and most meaningful wishes for your wife's birthday. Besides, you can refer to the utility:
Have a nice day, thank you!
Source: birthdaywishes, momjunction